Small Businesses invest in their marketing and advertising to attract customers, but some ignore the importance of branding. Learn how it can make a difference for your brand today.
Branding isn't just for the big guys. Yes, some of the big guys have the best brands in the business but those brands weren't developed by accident, they took years of thought and a well-planned (and well-controlled) company narrative.
But why should the big guys have all the fun? Your small business can develop its unique brand too and here I will show you how.
What is a Branding?
Most people think of a company logo when it comes to a brand. Well, that's part of it, but only just part of it. Branding includes not just your company's visual identity but your customers' overall perception of your brand. It is the reason that customers buy from you.
Your customers' perception of your brand is built on several elements, the experience they have with you, their expectations, the quality of your products or service, your personality and your industry reputation.
Now you may be thinking, how can I control what people and the industry think of my business? Well, that is the true essence of what branding is. Controlling the narrative of your business to influence the perceptions of your customers. Cementing the perception YOU want them to remember you for.
So, how can a small business create a brand?
Truly, any business of any size can create a brand that their customers fall in love with, who they remain loyal to and who they tell their friends about. The big question is, what do YOU want to be known for?
There is a couple of steps to help you with that. The process itself requires a little thought and thinking deeply about who you are.
Step 1: Establish your mission by outlining your purpose
When you started this business, you saw a gap in the market or a unique reason why you decided to enter the market. Ask yourself a few questions:
Why do you exist? What is your unique purpose?
What makes your business unique?
Why should customers care about your business?
Considering these questions carefully will give you insights as to how you should communicate with your customers and provide you with guidance to help you better connect with them.
Step 2: Research your target audience and get to know them really really well!!
You can't develop a strong brand unless you know who it is that you are speaking to. Research your ideal target audience and get to know what makes them tick, their likes and dislikes, their favourite things and their paint points. This isn't just demographics, paint a detailed picture of your ideal client and never ever stop learning about them.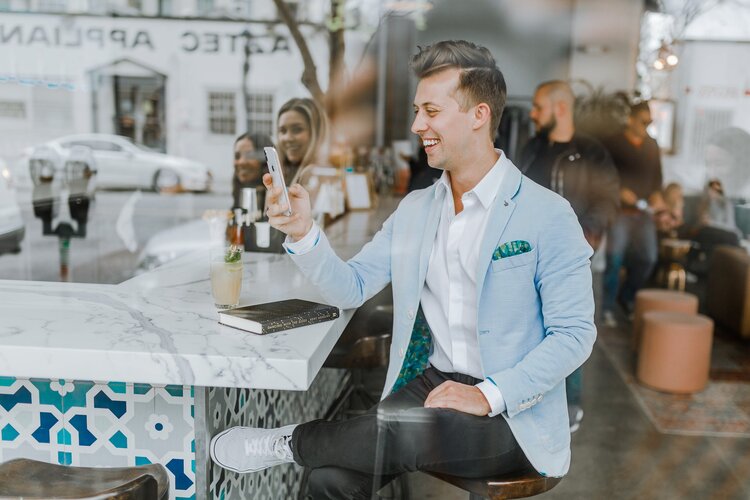 Step 3: Determine your brand personality
Is your brand playful or serious? Casual or professional? Innovative? outdoorsy? Your brand's personality will ultimately decide your brand voice when communicating with your audience. This is important to establish as it will be reflected in every single piece of communication you have with your customers.
Step 4: Develop a brand story
Now, this is the bit I love! This is the story of your company, why you are who you are and the story of how you got to where you are today. Your brand's story is what helps you connect emotionally with your customers by giving them authentic, real and relatable stories that make you less of a "business" and more of a "person". People don't connect with businesses, people connect with people.
Step 5: Keep it consistent
Once you have established who you are and who you are speaking to, the key to establishing a strong, recognisable brand is to keep it consistent. Every post, presentation, text message or email you have with your customers should reflect who YOU are whilst speaking to who THEY are.
If branding plays a big part in the success of the world's biggest companies, it can play a part in the success of small businesses too. Having a simple yet thoroughly considered brand strategy can be the difference between you selling your stuff and you selling your stuff to repeat customers who love you, who tell their friends about you and come back to you time and time again.
If you need help with branding your small business and getting consistency across your digital channels, contact us at The Digital Creative for a free 30-minute consultation.
Trish from Digital Creative